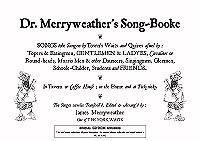 Dr. Merryweather's Song-Booke
SONGS tobe Sungen by Town's Waits and Quires aswel by:
Topers and Eatingmen, GENTLEMEN & LADYES, Cavaliers or
Round-heads, Morris Men & other Dauncers, Singingmen, Gleemen,
Schoole-Childer, Students and FRIENDS.

In Taverne or Coffee House; in the Home and at Pick-nicks.

The songes newlie Transcrib'd, Edited & Arrang'd by:
James Merryweather
One of THE YORK WAITS

SPECIAL CD-ROM INCLUDED
to aid selection and part learning - to assist those who do not read music
PC or MAC

Published by Ruxbury Publications, Scout Bottom Farm, Mytholmroyd, HX7 5JS 01422 882751 .
ISBN 1-904846-11-4 Price £19.99 from all good booksellers, or direct from the publishers for £22.50 incl. p&p
Early Music Today Review
American Recorder Review


The York Waits' Early Music Miscellany
A sheet music series of settings and arrangements of Medieval and Renaissance song & dance music for instrumental performances - some of The York Waits' best arrangements of the music they perform. Series Editor: James Merryweather. Peacock Press, published by Ruxbury Publications, Scout Bottom Farm, Mytholmroyd, HX7 5JS 01422 882751 .

click here for an extensive and detailed list of the pieces available so far.
Reviews:
The Waits Website
American Recorder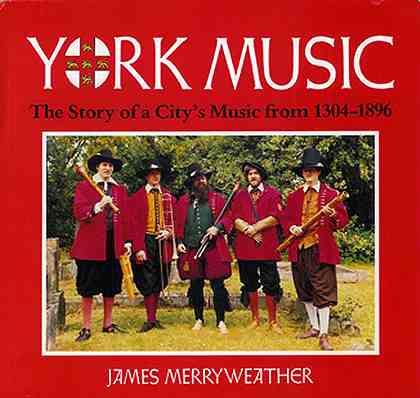 YORK MUSIC
The Story of a City's Music from 1304-1896
by James Merryweather
Sessions of York
ISBN 1 85072 034 7
For details of how to obtain this book, and the author's update of it, visit The Waits Website.