The White Rose & The Red
Music from the age of Richard III
Huntsup 003
"We will unite the white rose and the red," proclaims the Earl of Richmond – shortly to be crowned Henry VII – at the conclusion of Shakespeare's Richard III... The 15th century was a great age of song and this recording includes some of the best examples from the period.
Download the booklet notes here: whiteroseandred.pdf
Read more.
Slide show with audio samples.
Review: The York Press
Review: The Bagpipe Society Newsletter

'Variously serene and rumbustious pieces performed with dazzling skill… 'The whole is an absolute delight… The Living Tradition (issue 68) .
FORTUNE MY FOE lasts 65 minutes, and has 26 tracks of mostly popular music from around 1605.

Tunes include The Hunt is up, Woods so Wild, Pepper is Black, Sellenger's Round, Grimstock, Packington's Pound, Kemp's Jig, Millfield, Greensleeves, Bartholomew Fair, Lord Willoughby, Nutmeg and Ginger, Jew's Dance, Goe from my Window, Nobody's Jig, to name a few.

As well as the usual array of instruments, we include the violin playing of Susan Marshall.

Booklet notes and track listing
Sound samples
Beautiful Jo Records (tel: 01865 249194 ).
Reviews:
Times Educational Supplement
The Waits Website
Folk London
Shire Folk Magazine
fROOTS magazine
The Living Tradition (issue 68)
Stirrings (issue 127)

"This collection is delightful – a good blend of sprightly dance tunes and more serious works, rendered on a wide variety of instruments.... It all makes for a rich and absorbing experience." – Green Man Review, USA.
To read the entire review, go to http://www.greenmanreview.com

New!

Crions Nouel
Music for the Christmas season from the chapels, taverns and streets of
renaissance Europe.


Cherwell Thy Wyne
Dances of 15th century England


Music from the Gresley Manuscript recorded for Dolmetsch Historical Dance Society. An instruction book for the dances is available from their website: www.dhds.org.uk
Slide show with audio samples
See publications page for free sheet music.
Review: South West Early Music Forum
Review: The Waits Website
Review: The Bagpipe Society Newsletter

The disc takes its name from a riotous Christmas celebration that took place in York before it was banned by a Puritan Archbishop in the 1570s. The recording begins dramatically with the ancient Yoole-girthol proclamation which welcomed "beggars, whores, thieves and dice players" to the city during the Twelve Days of Yule. The CD includes English medieval and renaissance Christmas music plus material from throughout Europe. Instruments include shawms, sackbut, recorders, flute, harp, lute, guitar, cittern and hurdy gurdy. The Waits are joined by the soprano Deborah Catterall who also performed with the band on its Yule Riding series of concerts. See William Marshall's programme notes. Also, see the Pictures page for more on the Yule Riding.
Just before Christmas 2004, The Yorkshire Evening Press published a review of Yule Riding in which we got five stars, whereas Frank Sinatra and The Beach Boys got only three a piece! James boasted about this to the audience during our concert at York Early Music Centre and they applauded heartily. After the concert, a certain Martin Dreyer (see reviews) came to buy a CD and introduce himself as the awarder of the five stars. James, who was manning the CD sales table, thanked him for championing The York Waits and our music for many years (decades!) and in reply he vouchsafed that he was to be the reviewer for the present concert and promised a good write-up. He kept that promise.

Beautiful Jo Records (tel: 01865 249194 ).
Reviews:
Times Educational Supplement
Yorkshire Evening Post
The Waits Website



The King's Pavan
music from the life and times of Henry VIII
Huntsup 002


Sound samples
Review: The Waits Website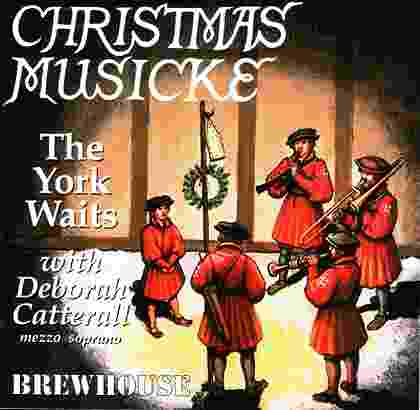 "Christmas Musicke"
The York Waits with Deborah Catterall