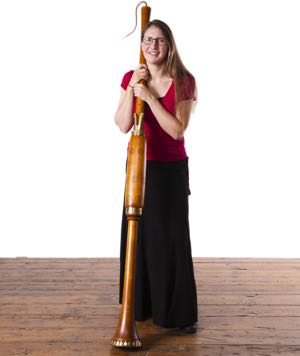 Lizzie Gutteridge
Lizzie took up playing shawm as a part of the historical re-enactment movement to re-form Waits bands throughout the country, then decided to pursue it further and make it her main occupation. She plays a wide range of historical instruments, including bagpipes, recorders, curtals and fiddles.

Lizzie now performs up and down the country, in and out of historical costume, as a member of Blondel and The York Waits. Freelance engagements have included the Globe's "Nell Gwynn", both on tour and in the West End, "The Knight of the Burning Pestle" at the Wanamaker Theatre, performances in Morocco and London with Passamezzo, and large scale events at Hampton Court and the Tower of London.

Lizzie's latest project "Consort of 1" combines early music on historical instruments with the use of live looping equipment which allows layering of parts to show Medieval and Renaissance melodies from a new perspective.