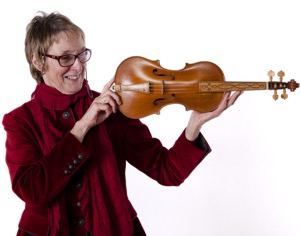 Susan Marshall
Before joining the York Waits in 2005 Susan combined teaching violin for local authorities with freelance playing (including Opera North and appearing in the multiple BAFTA award winning film "A Private Function" - her film career has been on hold since…).

William steered her back through the centuries and Duncan Druce inspired and taught her to play baroque violin and viola. Since then she has played with many period instrument groups including Duncan's own San Petronio Players, Leeds Baroque (as a founder member), Newcastle Baroque, chamber ensemble Arioso and The Early Baroque Band, which she led in anniversary performances of Monteverdi's 1610 Vespers.

As a member of Estampie she recorded for Naxos.

Collaborations with Deborah have featured performances of Purcell's Dido and Aeneas in Rome, the Fairy Queen in Wales and recitals with Deborah and Martin Eastwell in Newcastle and Hexham.

Engagements in 2019 include a tour of Vivaldi's Gloria and the Faure Requiem in cathedrals in England and Malta.